Hogarth to Cruikshank:
Social Change in Graphic Satire

by Mary Dorothy George

The subject of this book is graphic social satire before the days of Punch and illustrated journalism, when prints were engraved and sold seperately ... When in the 1750s the word 'caricatura' or 'caricature' came into use, the print shops applied it indiscriminately to any print with a comic or satirical intention. M. Dorothy George's study covers the art from 1720 to about 1830 ...

1967, 224 pgs.
Over 200 color & b/w illus.


The Duke of Wellington
and His Political Career
After Waterloo

by Edward Du Cann

Written by a former leading politician and based upon his own collection of Wellington caricatures ... the book deals with caricature as a reflection of popular opinion ...

2000, 144 pgs., 110 color ullus.

The Duke of Wellington
in Caricature

by John Physick

The Victoria & Albert Museum possesses a large number of 18th and 19th century caricatures, and this Picture Book contains a selection of those satirising Arthur, 1st Duke of Wellington, K.G.

1965, 96 pgs, 44 b/w illus.

Punch: The Lively Youth
of a British Institution

by Richard D. Altick

This book is the first to explore the first ten years of Punch, the popular Victorian periodical, especially as it mirrored the interests and mind-set of its predominantly middle-class audience ... Altick describes Punch's humorous treatment of events, public personalities, and current issues — frivolous or serious — against a background of historical evidence culled from the London Times and other contemporary documents.

1997, 776 pgs, over 170 b/w illus.


Click this logo to search for this book on:
Caricature History of the Georges
or, Annals of the House of Hanover Compiled
from the Squibs, Broadsides, Window Pictures,
Lampoons and Pictorial Caricatures of the Time
by Thomas Wright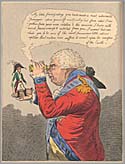 From the Preface:
The Work now laid before the public is necessarily by a sketch; only the more prominent points of the history of a hundred years are seized upon, and put forward in relief. The plan adopted has been to use caricatures and satires in the same manner that other historical illustrations are commonly used, by extracting from them the point, or at least a point, which bears more particularly or directly on the subject under consideration.
1867, 639 pgs, Bindings will vary
Hand-colored Frontispiece
and over 400 b/w steel and wood engravings after
Hogarth, Gillray, Rowlandson, Sayer, and others.
George Cruikshank's Life, Times, and Art
Volumes 1 and 2
by Robert L. Patten
A popular artist in the propaganda war against Napoleon, an ardent campaigner for Reform and Temperence, and the foremost illustrator of such classics as Grimms' Fairy Tales, Scott's novels, and Dickens's Oliver Twist, is known for his versatility, imagination, humor, and incisive images. His long life, marked by a ceaseless struggle to win recognition for his art, intersected with the lives of many of Britain's important political, social, and cultural leaders.
Volume 1 (1792-1835): 1992, 495 pgs, 81 b/w illus.
Click the logos to search for Volume One on:



Volume 2 (1835-1878): 1996, 657 pgs, 81 b/w illus.
English Caricature
1620 to the Present: Caricaturists
and Satirists, their Art, their Purpose
and Influence

by Richard Godfrey

This exhibition, the most comprehensive to be attempted in America, is a survey of English caricatures and satires from the grim anti-Catholic prints of the seventeenth century to the irreverent cartoons of today.

1984, 144 pgs, over 200 color & b/w illus.

George du Maurier

by Leonée Ormond

A critical biography of Du Maurier, the Victorian cartoonist and novelist. It traces his career, from a penurious and rootless childhood through to final success as the aurhor of a best-seller, Trilby ... a section of the book is devoted to a study of the social world of Du Maurier's Punch cartoons.

1969, 515 pgs, 160 color & b/w illus.

The Age of Caricature:
Satirical Prints
in the Reign
of George III
by Diana Donald
Applies current perspectives on the 18th century to the changing roles of women and construction of gender, the alleged rise of a consumer society, the growth of political awarness outside aristrocratic circles and the problem of defining 'class' values ...
Yale University Press
1996, 248 pgs.
210 color & b/w illus.
Click these logos
to search for
this book on:



The
Caricatures of
George Cruikshank
by John Wardroper
Focusing on the Georgian period ... beginning with his first published work at the age of 13 in the year of Trafalgar (1805) and concluding in 1834, three years before Victoria ascended to the throne.
1977, 144 pgs
Over 120
color & b/w illus.
Click these logos
to search for
this book on:



Censorship
and the
control of print
in England
and France
1600 - 1910
by Robin Myers
and Michael Harris
In this collection of essays, leading scholars investigate the interaction between authors, publishers, booksellers, readers and regulatory bodies in England and France across three centuries, and show the key role that the book trade — resisting or adapting to external pressures — has played in defining what is permissible to publish.
1992, 154 pgs,
7 b/w illus.
The
Mahogany Tree
An Informal
History of Punch
by Arthur Prager
Prager traces the beginnings of Punch from its creation in 1841 as a paper dedicated to "undying opposition to debtors' prisons, capital punishment, and other abuses" through its merciless depiction of kings and kaisers, the lower classes and the upper echelons ... and Americans.
1979, 306 pgs
over 100 b/w illus.
Click the logos
to search for
this book on: